How to design your kitchen in 5 simple ways?
Kitchens are one of the busiest areas in a house. It does not matter whether you have a wider or small kitchen, the important thing is a design that helps increase efficiency. Otherwise, your space looks cluttered and it takes away some of the joy you experience in interacting with your family and friends.
While cooking, a well-designed kitchen comprises several features that do not depend on the area's size. It includes the countertop, cabinets, workspace, storage area, and an efficient layout, among other things. If you are designing a new kitchen or giving your old one a makeover, you must look for some of the ideas for your kitchen. Therefore, we have listed the most useful tips that help you simply design your kitchen.
Find your budget
Make overall scheme
Store appliances off the countertops
Arrange your pantry in order
Why granite?
Find your budget
Finding an affordable, promising, and durable countertop is easy when you have the money, but things get tricky when the budget is tight. When you have enough budget, there is a wide range of options you can go for. As there is a direct correlation between the durability of the countertop and the price but for some pros, it is important to balance cost with durability. To find the desired material that is affordable and gives you a nice finish includes the black granite countertops kitchen.
Make overall scheme
Colors are the most vital part of designing. You can use a color chart to determine which colors complement one another. Remember that it is best to keep both dominant colors complementary and straightforward. You can use the third standard color to bring some attitude and tie the design between your countertop and the floor.
Because one of the most expensive items in your kitchen is the countertop, you have so many countertop options that come in a variety of colors, patterns, and even many have color variation within their designs. It allows easy coordination with elements in the room. Once you have chosen your countertop, you can bring a sample with you to find the right cabinet and floor finishes for a unified look. If you want to use a matching color scheme, it is easy to use your creativity on the walls, backsplash, or smaller decorative accessories.
With these simple guidelines, the process of choosing colors for your kitchen remodel will become fun and exciting for you. Throughout the coordination of your color palette, you can put together a visually appealing space with a style that will long outlast.
Store appliances off the countertops
When it comes to styling your kitchen countertops, you can also use a canister that holds, for instance, your coffee mugs. If you do not want to have a canister and want to put your stuff in a drawer, it can also work because it takes less space. Putting everything inside, such as crockery mugs, platters, and cutlery gives a better feel. Because these are not only taking up space on your countertop but also make it feel cluttered.
Arrange your pantry in order
Your fridge and pantry are part of your kitchen, even though they may feel pretty separate. For instance, if your pantry is in a different room. You can also build an open counter that can double up a bar and be accessed from the other side of the kitchen. It would help you to smooth the workflow. With storage space, the size of your kitchen does not look cramped.
Why granite?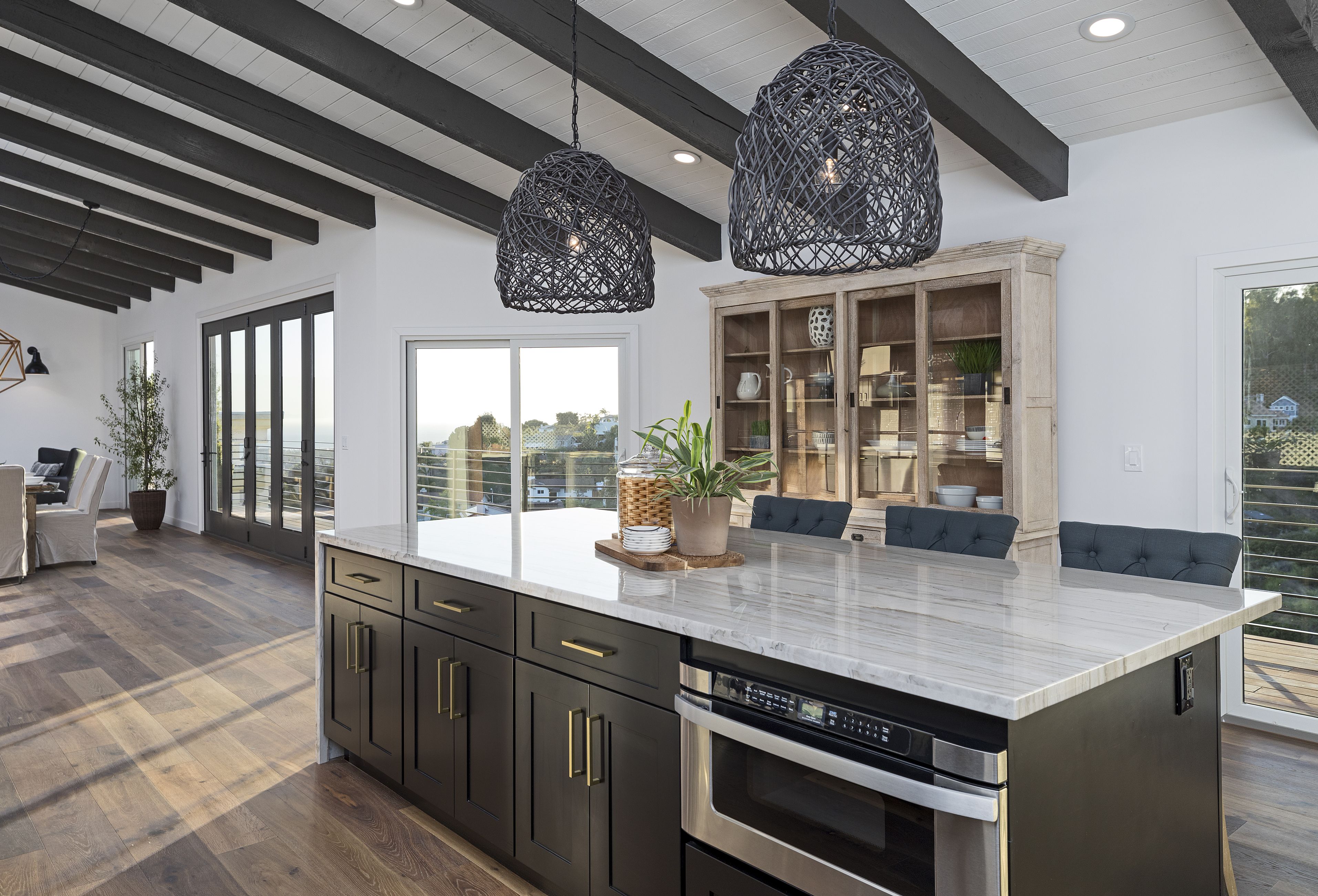 Granite is the most popular material to be used for kitchen countertops. It is not only hygienic but also nonporous. This property of granite countertops makes it resist germs and bacteria. In terms of benefits, it has excellent properties against resisting chipping, scratching, staining, and moisture. When it comes to its design, each piece of granite has a unique spectrum and adds value to your kitchen.
Granite is heat resistant and heats tolerant, but it requires some maintenance. Therefore, you will not put a hot skillet right onto this countertop. It would be best to take care of it; otherwise, it harms the stone. Heat can not break the rock itself, but you certainly do not want to burn or damage it.
Black granite countertops are making a big comeback into the kitchen styles. You can surely go with black granite if you want a captivating appearance. It not only adds a luxurious feel but also gives you great combinations.
Final thoughts
It is always a great feeling to combine different pieces to create an entirely new look, but it is recommended to keep your things simple. As far as you go with simplicity, the more elegance you will be having in your environment. In your kitchen, your countertop, your cabinets, and your floor allow you to change your kitchen theme without having to replace the larger and more expensive items. There are always so many different and visually appealing options. When planning a kitchen remodel, it can be hard to visualize how potential pairing will look together.