Ukraine war: 'I have 20 children here, please send help'
Tens of thousands of children in Ukrainian orphanages and foster care are in desperate need to get out of the country. They are scattered around the country, making the efforts of civil society and religious groups to get them out even harder.
McDonald's said it was temporarily closing its roughly 850 restaurants in Russia, while Starbucks also said its 100 coffee shops would shut.
The firms initially remained tight lipped over the conflict, but took action because shareholders "wouldn't stand" for the continued generation of profits from Russia, says Anna MacDonald, a fund manager at Amati Global Investors.
"It was affecting their share prices and the feeling was that it was just utterly inappropriate to continue to do so," she told the BBC.
Pepsi, which has a much larger presence in Russia than rival Coca-Cola, said it was halting the production and sale of Pepsi and other global brands in Russia, but the company, which employs 20,000 people there, said it would continue to offer other products.
Food companies Nestle, Mondelez, Procter & Gamble and Unilever have halted investment in Russia, but said they would continue providing essentials.
The world's biggest cosmetics firm L'Oreal and rival Estee Lauder are both closing shops and ceasing online sales. Estee Lauder, whose brands include Michael Kors, DKNY, Clinique and Bobbi Brown, has had a presence in the country for about 30 years and Russia was where it had some of its strongest sales.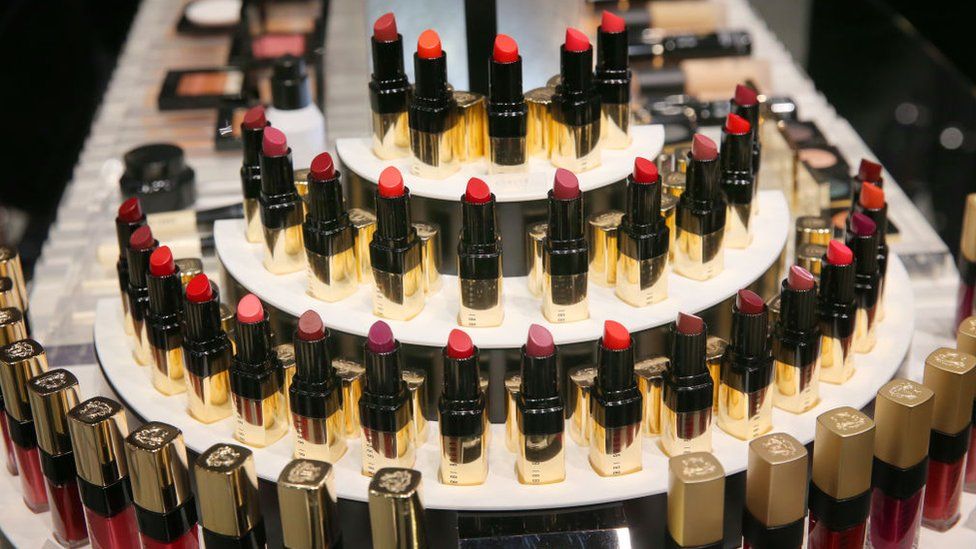 In fact, Russia was the fifth largest European retail market globally last year, valued at £337.2bn. So some brands may not want to burn their bridges, if there's a chance of returning at a later date.
That is why many firms, including other luxury retailers like Burberry and Chanel, simply say they are "suspending" sales and temporarily shutting stores rather than withdrawing altogether, says Chris Weafer, chief executive of consulting firm Macro-advisory Limited.
With sanctions limiting forms of payment and huge uncertainty over future prices and consumer appetite, the business climate is "extremely challenging" he adds, making the decision to hit pause easier.
The world's biggest fashion retailers H&M and Zara-owner Inditex, which has 502 stores in the country, for example have already suspended sales in Russia, citing "tragic developments" in Ukraine. Other brands like Nike have simply said they can't currently guarantee delivery of goods to customers in Russia.
More brands are likely to follow suit, according to Maureen Hinton of retail consultancy GlobalData. Boohoo, Swedish furniture giant Ikea and Japanese clothing retailer Uniqlo which initially kept its 49 shops Russian stores open, saying clothes were a "necessity of life", are some of the other names to have now cut ties.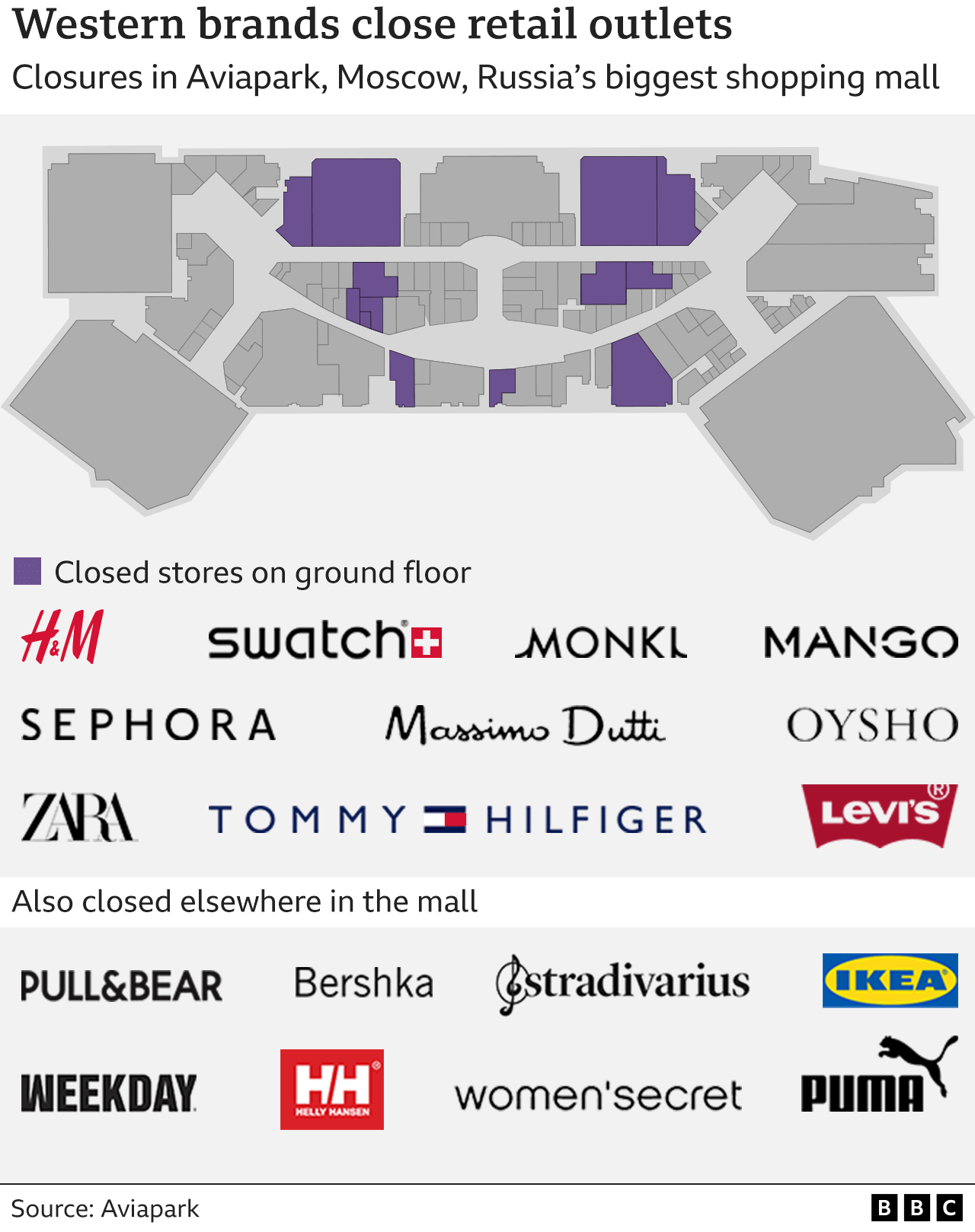 Even Levi's, the jeans brand that became a symbol of post-Soviet business in Russia, has closed its shops. The all-American jeans firm said about 4% of its total net sales came from Eastern Europe and Russia last year, but "any business considerations are clearly secondary to the human suffering experienced by so many".
Samsung, the leading supplier of smartphones in Russia, has said it will suspend shipments to the country but has not said whether its shops will close.
Japan's Sony and Nintendo suspended deliveries of gaming consoles, and Sony suspended the launch of racing game "Gran Turismo 7".
Apple has also halted all of its product sales in Russia, and limited other services such as Apple Pay and Apple Maps. Its shops have closed too.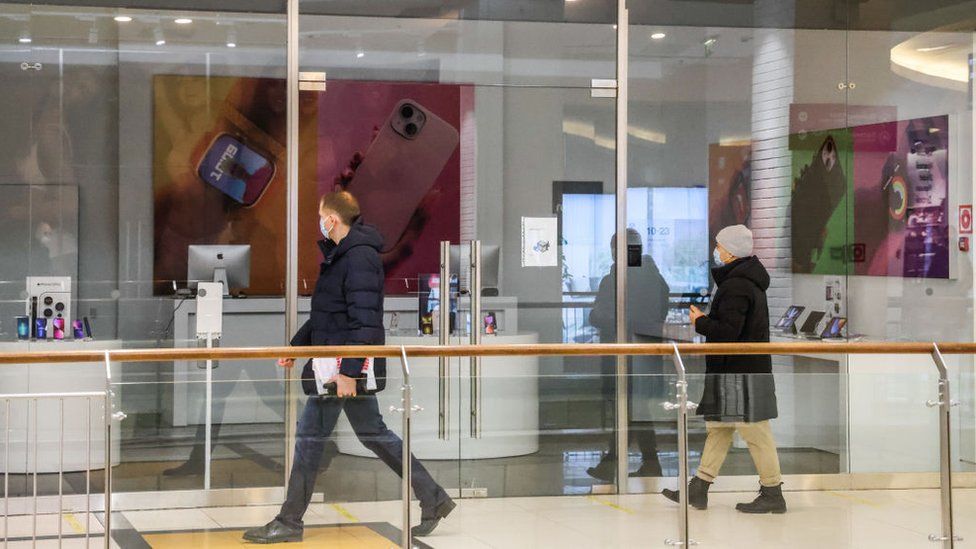 For a firm like Apple selling imported items, that's a relatively straightforward decision to take, suggests Macro-advisory's Chris Weafer.
"Companies do not want to be associated with the Russian regime and what's happening in Ukraine," he says. Their Russian business may be profitable, but "the rest of the world is more important" when it comes to reputational risk.
Some tech companies, flooded by misinformation, are also restricting Kremlin-linked media outlets posting on their platforms. Facebook was blocked in Russia after it said it had refused to stop fact-checking and labelling content from state-owned news organisations.
Meanwhile, TikTok has blocked all non-Russian content in Russia and suspended live streaming, although it is allowing historical content uploaded by domestic accounts to stay online, including videos by state-backed media services.